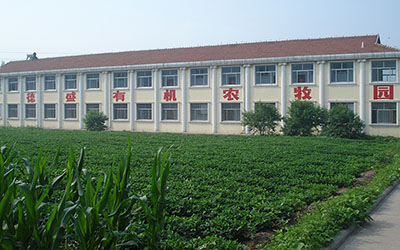 Shandong Shundesheng Organic Farming and Animal Husbandry established in August of 2002, belongs to Shandong Shundesheng Group. It is located at the south of Xiaolai Road of the Baitengkou Village, Bailinzhuang, Laiyang. It covers an area of more than 800mu with a total investment of more than 20 million yuan. The farm is well located with beautiful environment and convenient traffic far from pollution and is an ideal green food processing base.

In the farm, there plant all kinds of fruits and vegetables; a pond of 18mu which can contain as much as more than 100000m³ of water, provides automatic irrigation to the whole farm; a pig farm area can hold more than 10000 pigs. The office building covers an area of more than 1200㎡.

In order to standardize the farm management, Shundesheng Organic Agricultural Pasture cooperates with international advanced enterprises and brings in advanced species and management technologies of planting and breeding, and has established a complete set of standard scientific planting and breeding methods. The company sticks to the development principle of ecological cycle agriculture and has created a high-tech planting and breeding mode of high efficiency and low consumption.

Friends both at home and abroad, welcome to the Shundesheng Organic Farm, and we hope to cooperate with you to make development and to create great achievements!