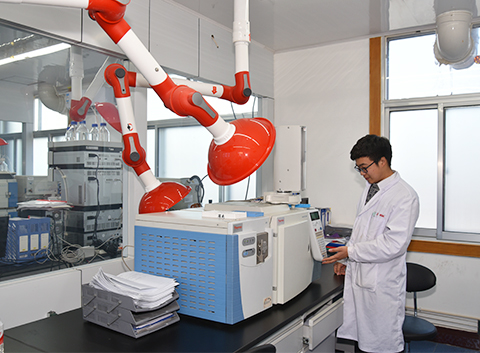 Shandong Zhongzheng Food Technology Testing Co., Ltd. is the only non-official testing organization of Laiyang. It provides the Third-Party testing service for customers with the principle of observing the fact, being accurate and timely, putting quality at the first place and providing good services.

The company covers a total area of 1500㎡ and has a management and technology team of 25 people, 3 with senior titles and 10 with intermediate titles. It has the most advanced equipment, an ion chromatograph, gas chromatograph, GC/MS, microwave digestion system, liquid chromatograph, LC/MS, Kari Fischer moisture titration, flame&graphite furnace automatically switching atomic absorbance spectrophotometer, atomic fluorescence spectrometer, elemental ultrapure water machine 1810d, ultraviolet spectrophotometer, spectrophotometer 722, infrared moisture meter, SPE apparatus, biosafety cabinet, autoclave, constant temp drying box, constant temp incubator, mould incubator, 1/100000 electronic balance, chamber resistance furnace.

Observing the ISO/IEC17025(CNAS—CL01 (General Requirements for the Competence of Testing and Calibration Laboratories), Criterion for Accreditation and Assessment of Laboratories Qualities, and Criterion for Accreditation and Assessment of Food Testing Organizations Qualities, the company has established a set of lab quality management system, which passed the accreditation by China National Accreditation Service for Conformity Assessment (CNAS) in June of 2011, certificate no. L5136; it passed China Metrology Accreditation (CMA) in February of 2012, certificate no. 2012150046Q; it has also passed China Metrology Accreditation for Food (CMAF), certificate no. F2012150003. In the capacity verification tests organized by state the international organizations, it has achieved excellent scores and won the customers' approvals.

The company mainly does tests in following fields: foods, agricultural by-products, life drinking water, ground water, surface water, lab-used water, drinking water, irrigation water, soil, feed, chemical fertilizer, disposable sanitary products, cosmetics, etc.

It can do more than 1000 tests: total plate count, coliforms, E. coli, salmonella, shigella spp, staphylococcus aureus, vibrio parahaemolyticus, mould, yeast, Listeria monocytogenes, thermotoleerant coliforms, fecal bacteria, E. coli, moisture, ash, protein, fat, sucrose, reducing sugar, acid value, peroxide value, sorbic acid, benzoic acid, saccharin sodium, sodium cyclamate, sunset yellow, tartrazine, total acid, sugar degree, pH, SO2, salinity, heavy metals, food additives, pesticide residues.

The company adheres to the principle of credibility and integrity, and provides good quality services for medium and small food enterprises at good prices.